In June 2020, we decided we had time for a bit of a refurb upstairs.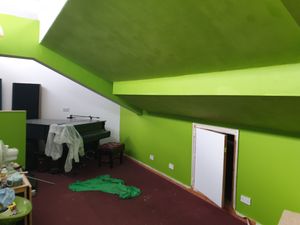 Al and Ceri had been dabbling with green screen on a regular basis, so they figured that if they could find a shade of green that was not too extreme they might turn the upstairs into (at least a partial) green screen room.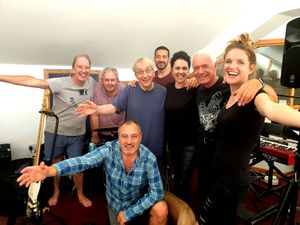 We had already been using the room for the old school recording of the forthcoming Roosevelt album and also as the main rehearsal space for The Korgis. 
With the social distancing that Covid was making necessary, the upstairs seemed an ideal space to do some live videos - in the absence of any real gigs. We set about making it a permanently set-up recording/filming space.
Our Korgis drummer and also regular session player Paul Smith spilled the beans that he had three(!) kits and would be up for leaving one set up at the studio. This turned out to be excellent timing as his partner Elaine Gilmore was in the middle of recording her Bacharach album - Love Is Still The Answer, and the kit would already be set up for that.
Al had his eye on a 360 camera thinking that could be a neat look and as we would be playing 'in the round' the 360 camera would be ideal. Bolstered up by the new Samsung phone cameras we should be able to cover everything that moves.
Here is how that all turned out!