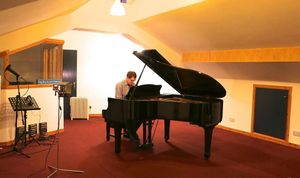 Songwriters at shabbey road
Ian Mitchard
Ian has recorded around 130 songs at the studio! This was a simple one initially - just piano/guitar/saxophone. When we realised how good Megan was on camera , we expanded the arrangement to include real strings.
Darren Parry
Darren has been recording his original songs a the studio since around 2003. Darren has one many awards for his songs, but he also writes for other people.
Here is Nina Jones with Never Let You Go.
Video filmed by Rob Reed and edited by our in-house designer Ceri Darknell.
Ray Gee
Ray has been in the business a good few years and has built up an awesome collection of blues/country/gospel songs.
Here is his true story from his childhood.
Recorded in a four-hour session.
Ray is a bit reticent to be in a video so Ceri Darknell had her work cut out making this one interesting.
Daniel and Laura Curtis
These guys like to work the big canvas and they are living testimony to bigger sometimes really IS better.
Arranged by Al Steele and produced by Rob Sherwood. A rock band, a brass band, a lot of singers and a full orchestra. It doesn't get much bigger!
Look at the list of stars in this video - make sure you get right to the end!!! Can't take credit for this vid - all put together by Laura Curtis.