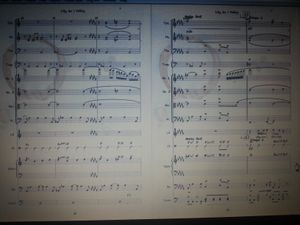 Terry Jones and the Great Map Mystery
This TV series was a road trip, set in the modern day, but it's central character, Ian Ogilby, was a 17th century character.... he was also a bit of a dancer. Originally to be called Ogilby's Roads it shows how he mapped the first roads, and why. It is at it's heart a detective story. 
To reflect the kind of Del Boy character that he was, we came up with a score that was mixture of 17th Century parlour harpsichord music.... and DISCO! 
Composed by Nigel Hart/Al Steele and featuring The Welsh Chamber Orchestra
This was a 4-part series but Nigel and Al wanted the music to have a real through line. As they were writing and scoring separately they decided on several related keys and tempos.
In this clip there are 3 sections. Al wrote the first section - the disco wah theme, Nigel wrote the second classical theme and Al wrote the mystery guitar/strings theme.
These would all come back in many different guises and because our tempos and keys were related we could really do some mash-ups!
A Pembrokeshire Farm - with Griff Rhys Jones
Recorded and arranged at Shabbey Road, for the BBC series.
This music was composed twice!
The original score was intentionally quite bleak, the brief being, 'as if it was hewn out of the rocks.' The instrumentation was clarinets, strings, french horns, trombone, tuba and drums. The drums were often doing their own thing, (intentionally of course!), which gave the music a slightly disjointed feel.
The film was then re-edited several times, and we were given a slightly different brief.. Blues guitar! We decided to rescore completely, although a couple of the original ideas were reworked.
Composed by Nigel Hart/Al Steele and featuring The Welsh Chamber Orchestra
Sea Stories with Trevor Fishlock
In the corner of our Studio One control room we have a large drinks cabinet in the shape of a Grand Piano. It is also the big drum on this signature tune!
Nigel Hart is on accordion [by virtue of being the only accordionist in the studio at the time(!) and James Mainwaring is on penny whistle. His brother again, leads the strings to great effect.
Phil Lewis, the director of this programme rang us and asked for a slow lament for accordion that afternoon! It took 2 minutes to write and three hours to learn to play it, such is Nigel's prowess on this instrument!
It took us a while to mix this track too, because we hadn't had to deal with this array of instruments before. However we now consider ourselves to be the finest exponent of "folk music mixing" anywhere, as longs as its penny whistle, accordion, strings and a big drum shaped like a piano!
Composed by Al Steele and arranged by Nigel Hart
Jigsaw
We were given a days notice to write this one, for HTV's arts programme of the same name. Thankfully some fine musicians were on hand at short notice, to breathe life into this tricky be-bop tune.
Eric "The Viking" Clark played 4 of the 5 saxophones and did a fab job... though complained it was too fast, had too many notes and was in a difficult key. Otherwise he thought it was great! His improvisations were one take.
Again the inimitable Ian Williams was on drums, and the rest of the ensemble was Nigel and Al. We played on it 'cos its our studio!
Composed and arranged by Nigel Hart
Produced by Al Steele
In At the Deep End
For the BBC documentary of John Ridgemoor's trip across the Atlantic. The main titles were written in a very fast 7/8, which hardly endeared us to the musicians! Nigel and Al went off to separate rooms, and when they met up again to compare notes, the two ideas seemed to compliment each other, so they were joined together.
The piece was arranged in the same way.. 'Hey Nige', what note do you want me to end my 1st Violins on?" Featured instrumentalists are James Mainwaring on Alto Flute, and Ian ("yeah 7/8 can groove quite nicely!") Williams on drums.
The incidental piece 'Fog', uses the same principal themes, but transposed, echoed, and reverbed to the Arctic; which is, incidentally where John Ridgemoor was at the time!
Composed and arranged by Al Steele/Nigel Hart
The Battle of the somme
 This film was commissioned by Black Box AV for a war museum in Enniskillin in Ireland. There are many parts to the music score, and the piece was a real challenge. We were also asked if we could incorporate the actual bugle call of the regiment into the music. This appears as they go 'over the top'.
There was a tight budget for this one (isn't there always!) which meant we used a mixture of real instruments and some samples.
Composed and arranged by Al Steele and featuring members of The Welsh Television Orchestra.