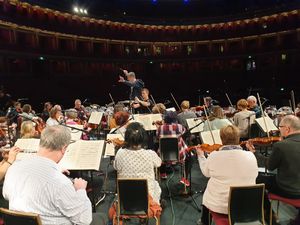 Orchestral Production
Orchestral recording is the most complex type of recording we do.
Full orchestral recording
Daniel and Laura Curtis' last recording was  a double CD called 'Overture'. As well as full orchestra and sometimes a rock band, each disc would open with an orchestral overture playing tunes that were to feature on this CD. 
If you listen through you will realise that the tempo is changing all the way through. How do you keep an orchestra together when the tempo is swimming about? With a conductor is of course the answer - but not when you are multi-tracking in the studio! So we need a virtual conductor.
Let us take you through this rather convoluted process! First off we write a score - something like the 1st page on the left. The next step is to transfer that to the studio set up as a midi file. By the magic of technology we can play back the written music with all the correct instruments sounding. 'Can't we just use that for the recording?' we hear you cry! In truth it still sounds rubbish - but the basis is there. Next we painstakingly go through the whole piece drawing tempo curves in. Now the piece is playing at the right tempo and sounds better. Then one by one we replace all the fake instruments with real ones. When you have heard this process come to life, you will never want to return to fake strings ever again!
So look at your wallet carefully before you get hooked!
One of the reasons we know so many musicians, is because we are gigging musicians ourselves.
We have had the pleasure to fix the bands for gigs at The London Hippodrome, The London Palladium and most recently for Music Man Project UK, at The Royal Albert Hall.
We also arranged all the music for these gigs.
If you have a project that seems too far-fetched to ever work - perhaps you should have a chat to us first!