ELAINE GILMORE and the songs of Burt Bacharach.
Love Is Still The Answer - LISTEN AND BUY IT HERE!
It is not very often that we spend over a year making an album - but quality takes time - and a masterpiece takes a little longer!
Featuring The Welsh Television Orchestra which is comprised of the top musicians in Wales. If you then add to that some of the most outstanding musicians in the whole of the UK, then it is a good bet the music is in safe hands.
Elaine Gilmore and Al Steele first began talking through arrangements way back in May 2019. As well as sifting through some rather gorgeous new versions of Bacharach's songs, we wanted to make sure we were being true to the composers intentions - at least for the melody and the lyrics. The actual arrangements were all up for grabs and we were certainly not going to scotch a good idea if it came our way!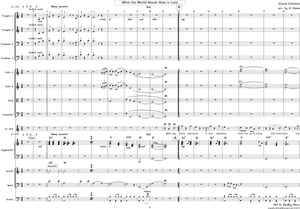 After the actual music is written - yes we write it, we don't buy it! - there are several ways to attempt a project like this.
1) The usual way is to get as many of the band in the same room and get through as much material as you can, while it is all set up. This is always great fun - but a bit stressful - and you get what you get.
2) Attack each song in smaller chunks. Rhythm Section - Strings - Brass - Woodwinds.
This is the way we chose to do it. Probably each way would come out at a similar price, but the 2nd method allows much more attention to detail. For a start everything is recorded in isolation, so fixing or patching in is a cinch! The other thing is the client doesn't need to find the multiple thousands of pounds in one hit! - funny enough - I don't know too many singers/musicians whose middle name is 'money bags' so this can often work out better
And so it started. In this case Al decided to do piano/bass/drums at the same time, so the feel would be nailed down. This would include complex tempo changes, so we were using click tracks throughout. This was also essential for tying in the other sections as we got to them.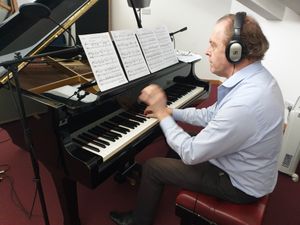 Nigel Hart was on grand piano upstairs in Studio 2 -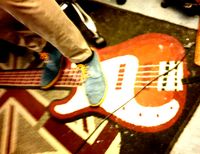 Al chose to play bass himself while engineering in the control room- and Paul Smith (Elaine's hubby, but also powerhouse drummer for The Korgis) was in the drum booth.
No - we don't hate each other, and because everything is miked we can all talk as if we were in the same room. We typically did one run through, then two maybe three takes before moving on to the next song.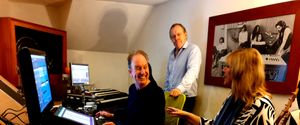 We did 4 sessions in this way. Al would later dub guitars, but only after the rest of the orchestration was in place, so as not to get in anyone's way.
Typically we tracked strings in next as that makes an massive difference to the sound.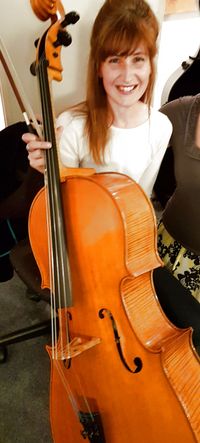 We use 10 1st Violins, 8 2nd Violins, 4 violas and 3 cello's. Unless the song had no bass guitar we wouldn't use double bass, as the two would conflict.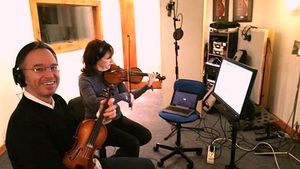 Our featured string players are Richard Mainwaring, Korine Colborne and Claudine Cassidy. These guys work VERY HARD to create that big lush sound.
Next came the brass and woodwinds. These guys have been with us ever since Shabbey Road started up way back in 1999. They are not only great friends but exemplary players who take pride in every note - no matter how high it is!!!!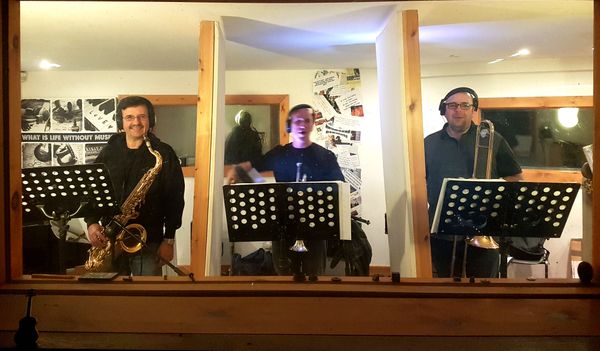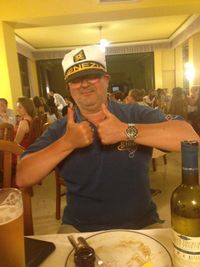 Jonathan Mainwaring,
the brothers Ceri and Alun Rees
and our favourite northerner Phil Jarvis!
A couple of fantastic musos contributed .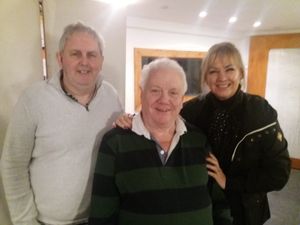 Can't thank you enough Bruce Adams and Simon Allen...
you guys took it to another level!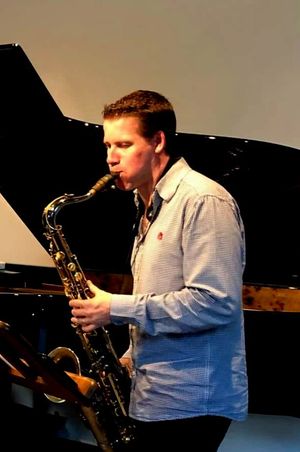 It will come as no surprise that when we came to record the vocals, no stone was left unturned!
Elaine began by singing them the way she would on stage - and anyone who has seen her will know she really delivers - but quickly realise she could do so much more. She paid attention to every note - every vowel sound - and came up with something that can be listened to again and again. You will hear something new every time.
That is the nature of great musicians and a great singer bouncing off each other.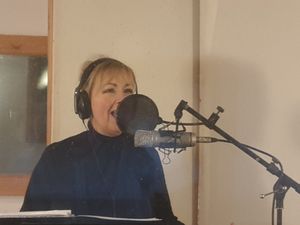 We had so much fun making this album - the mixing was easy. You don't need to micro-balance great players because the balance is there in the playing. Sure we tweaked things but there was no re-inventing the wheel on these sessions!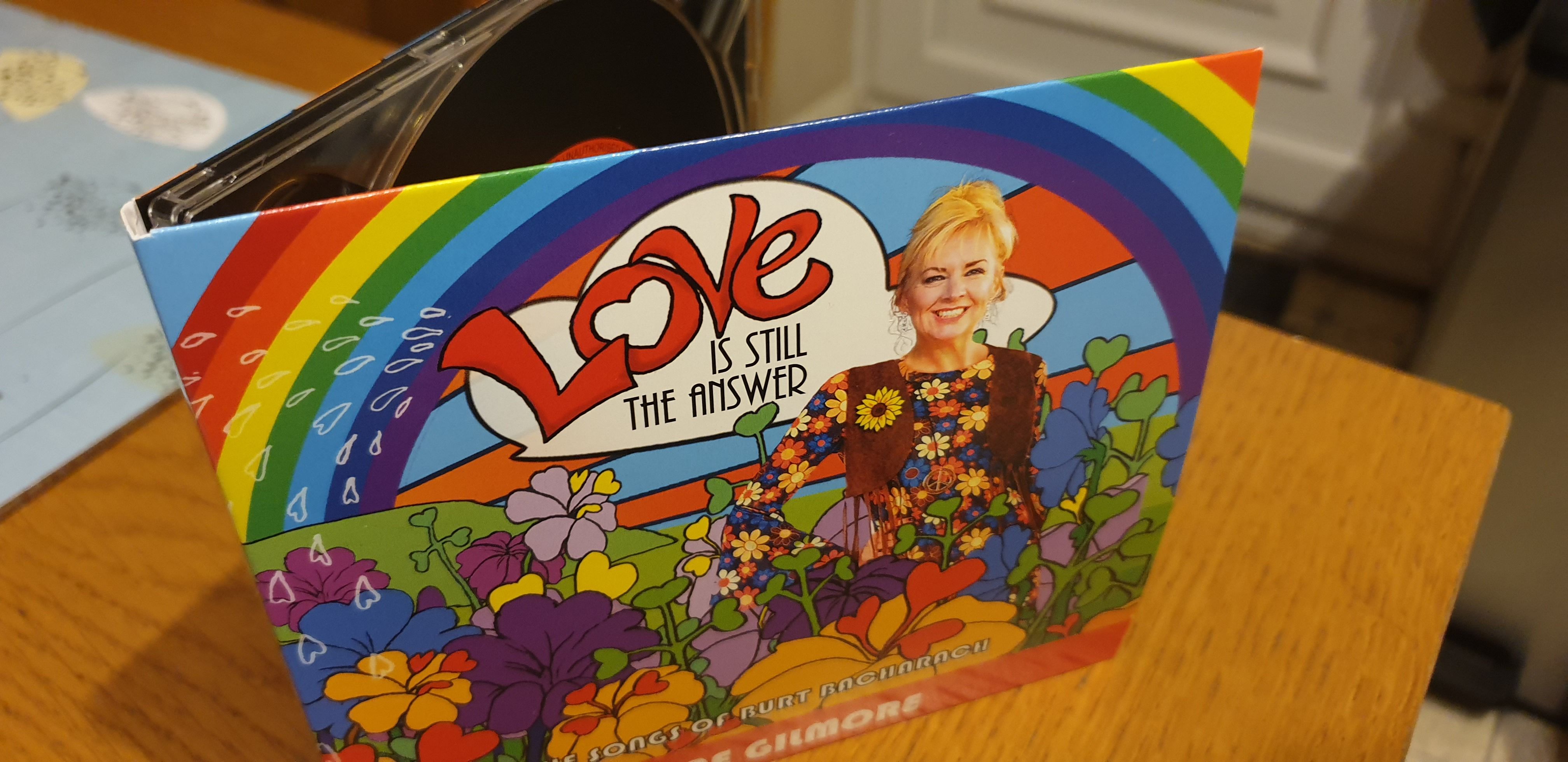 Ceri Darknell designed an album cover that looks like it has been stolen from the sixties!! So many of these songs are about love that we wanted the look of the album to make you feel good before you ever played it. We love Spotify and Youtube, but this is one album you really want to hold in your hand!
Please do check it out -  it is well worth it - and while you are at it subscribe to Elaine's website. There is more great music where this came from!